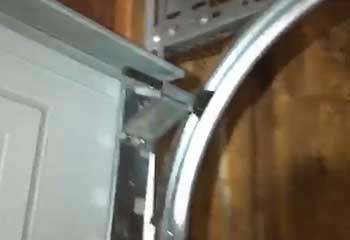 Garage Door Off Track
Customer Issue: One of the bottom rollers of the customer's door came off, loosening the door and allowing other rollers to leave the tracks. The door needed a new roller and to be put back on track.
Our Solution: We disconnected the opener and lift cables, and then raised the door off of its tracks and laid it down inside the garage. We replaced the faulty roller, secured it tight, and then raised the door back up and slid it down into its tracks. A few test runs confirmed that everything was working again.
Garage Door Installation
Customer Issue: Mr. O'Lian moved back into an old house that no one inhabited for some years. One of the fixes it required was a new garage door, and he decided on an automatic overhead system.
Our Solution: A Clopay Canyon Ridge series door best matched the customer's aesthetic choices, and brought the strength and insulation to bear to ensure good protection. For the opener, we helped the customer pick out a LiftMaster 8355 ½ horsepower unit. This opener is strong enough to handle the door and then some, and its belt drive provides quiet operation. The new door met the customer's expectations.