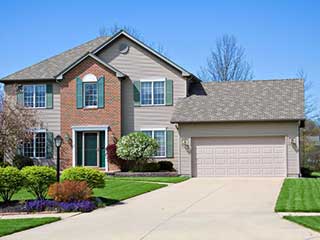 You don't have to worry if you have a broken spring because you can just call Garage Door Repair Rancho Cucamonga and – voila! – we'll have it fixed in a jiffy. We can repair and replace every part of your door, regardless of which brand it belongs to, so you don't have to worry about compatibility. Our top quality replacement parts will fit your door perfectly.
Fixing Broken and Worn Out Doors
Your garage door cable and springs transfer the pulling force exerted by the opener's motor and use it to pull up the door's panels. If one of these components breaks, it will need to be replaced. Another important component that ensures proper opening and closing are the tracks; if they're bent, we can get them realigned for you.
A Local Service Provider
Our team is based in California, so if you're having trouble with your garage door opener, for example, we are the perfect company to help you out. Our technicians are highly experienced in dealing with every brand out there. We can replace everything from a worn-out motor gear to a burnt electrical wire, and we can also tend to your opener's delicate safety sensors and make sure that they are properly aligned. Our locality also makes us able to provide our customers with emergency response services.
Professional Spring Repair
Garage doors can be extremely heavy. The only reason that you're able to lift your door up manually without breaking a sweat is thanks to its springs. These components carry the majority of your door's weight, which is why they are almost always under a great deal of tension. When even one of these components breaks, the entire system can fail. This makes opening and closing your door manually more than simply an annoying a chore - it can be downright dangerous. You should never attempt to replace springs by yourself. Simply call our professionals and we'll get it done safely.
Optimizing Your Opener
Openers are like obedient robots that obey you without complaining. Although they are made to last, they are bound to break down eventually. The many moving parts involved in their operation make it an inevitability. Since an opener's overall function relies on each component functioning correctly, even the smallest part can make the opener ineffective when it malfunctions. With our professional maintenance service, our technicians will inspect every part of your system, no matter how small. If we find one that seems wanting, we'll immediately get it replaced. This will ensure that your garage door continues to work for as long as it can, and it will also greatly reduce your chances of suffering unexpected breakdowns.
Contact our Garage Door Repair Rancho Cucamonga team today and we'll quickly resolve all your related problems.
The Best Service Provider Around
Top Quality Replacement Parts
Highly Skilled Technicians