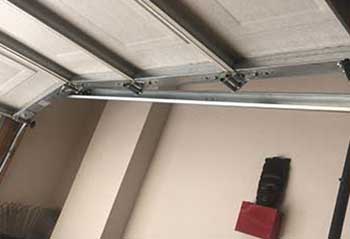 Roller Replacement
Customer Issue: One of the customer's rollers stopped up completely and began scratching the track during garage door use.
Our Solution: We removed the door carefully, making sure to put most of the pressure against the opposite track. Once we got it off, we replaced the roller with a fresh one, and also took the opportunity to replace two others that seemed questionable. After doctoring and lubricating the tracks, especially the scratched one, we reinstalled the garage door and tested the roller replacements.
Garage Door Opener Repair
Customer Issue: The customer's garage door opener wouldn't respond to remote controls, but the buttons on the opener itself worked fine. Syncing a different handset to it didn't help.
Our Solution: We suspected the antenna was the problem, especially when we saw the state of it. We replaced the garage door opener's antenna with a spare, and the signals started getting through. We left the new opener antenna in place and went over the rest of the system to see if any further opener repairs seemed necessary. None did!