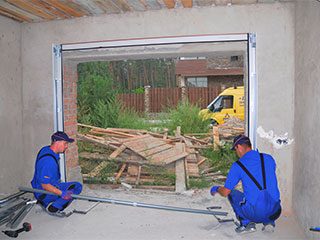 A garage door system is comprised out of many different moving parts, and if any of them fail, your door could get stuck, or worse, collapse altogether. Many homeowners are all too familiar with the frustration of needing to get out of their car to manually open and close their garage door, which is why you should seek out professional assistance whenever you notice even the tiniest problem with your system.
This Is Not a DIY Project
Garage doors present a great risk of injury to anyone who attempts to handle them without undergoing the necessary professional training. Improper repairs could leave you or one of your family members injured, void your manufacturer's warranty and even worsen the problem you are currently suffering from.
We Replace Springs, Rollers, Panels and More
Regardless of what is going on with your door itself, you can count on us to handle any problem you may suffer from. Whether it's a worn-out spring, a rusty roller or a snapped cable, we'll replace the damaged component with one that will be just as good if not better.
Broken or dented panels can also be detrimental to the functionality and security of your door. They can let outside weather seep inside your garage, potentially causing damage to your vehicle or your stored possessions. It can even make it easier for intruders to gain access into your home. Getting any damaged panel properly replaced will help you prevent all that and more.
Scheduled Maintenance Saves You Money
It's easy to overlook what's going on with your garage door until it ceases to function. By that point, the damage is done, and the required repair service can be quite costly. It can often be much more affordable to invest in routine maintenance that will have our professional technicians closely examine every part of your system and apply the necessary lubrication or replace any worn-out components, thus effectively extending your system's lifespan and preventing minor issues from become major problems.
Call us today to get our experts from Garage Door Repair Rancho Cucamonga tend to all of your related problems.
We also offer the following:
Torsion Spring Repair & Replacement
Garage Door Opener Track Maintenance
Overhead Door Installation
Garage Door Cable Replacement