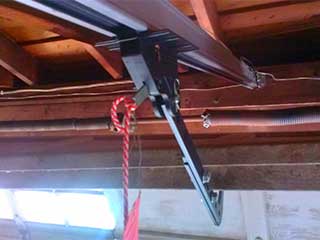 How Important are Garage Door Springs?
You probably don't think about it until it's too late. Garage door springs are vital to a door's functioning, but often won't show visual signs of wear and tear. They have lifespans of around 10,000 cycles and will wear out eventually. When they do, your door becomes a hazard. Perhaps it's time to inspect yours.
Doors Stop Working
A torsion spring carries all the weight of your door. Each time it's opened or closed, the spring is wound or unwound. You can imagine this puts a lot of pressure on the metal. It's inevitable that they wear out and eventually break.
This could be the reason your door doesn't want to open at the moment. Our team is experienced in working with torsion springs. We'll replace them if necessary and we only supply the best brands on the market. We will have your door back in working condition fast.
Let's Make Sure You're Safe
You don't have to wait until something goes wrong before you take action. Why not ensure your door is still in optimum working condition?
With garage door springs, it's vital to have balance between them and the door. Firstly, it's a safety issue. You don't want the door coming down too fast while someone is underneath it. Secondly your parts will wear out faster if the door is out of balance.
Our experts know how to do safety checks and identify possible risks. If necessary, they can make minor adjustments or repairs to improve spring tension. Trust us to improve safety and help you save money in the long run.
Always on Duty
You don't know when your garage door springs will break. When it does it can leave you without security and peace of mind. But not if you make use of our emergency repair service. We will tend to your request as quickly as possible. When you need heroes, we'll be there for you. Alternatively, book our team today, and prevent complications.
When it comes to your door, we don't settle! We also offer:
Garage Door Off Track Repair
Emergency Broken Spring Replacement
Belt Drive Opener Installation
Part Replacement & Repair