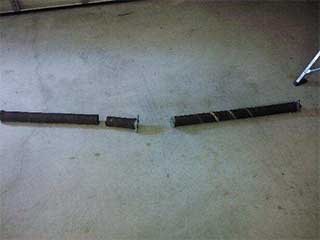 It's vital that you don't underestimate the importance of your garage door springs. These components have a pivotal role to play when it comes to making your door open and close smoothly. They can stop working properly for various reasons, but the result will usually be the same – they'll snap. If you suspect you have a problem, you should never try to repair or replace them by yourself. Springs can be incredibly dangerous, and should only be handled by professional technicians. Any mishandling of these crucial components can also damage your door, which will end up costing you more.
Torsion and Extension Springs
A lot of problems related to garage doors can be linked to their springs. There are two main types – torsion and extension. The torsion type ones wind and unwind in order to open or close the door. The extension type ones, on the other hand, stretch and contract in order to achieve the same goal. One of the reasons why springs can be so dangerous to handle without the proper training is that they are under a great deal of tension, and when they snap they can damage nearby people or objects.
Common Issues
The most obvious one is a broken spring. That type of situation requires a professional technician's assistance in order to handle without risking injury. The second most obvious type of issue is squeakiness. Although it may not seem as foreboding, it does signify some wear and tear damage. In this case, some proper lubrication can usually resolve everything. Another issue you could find yourself facing is a tilting door. Improperly balanced springs are likely the reason for that. Once again, expert assistance is required. Due to the incredible amounts of tension these components are under, even trying to adjust them a little can lead to catastrophic results.
How To Get Help
The best way to avoid damaging your property and injuring yourself or your family members is seeking out professional assistance. You'll save more than just money (as improper handling will lead to more costly repairs) you'll also save yourself time, which is the most valuable currency we have.
When the need arises, don't hesitate. Our Garage Door Repair Rancho Cucamonga team is always ready to lend a helping hand.